Think beyond guacamole
While once considered an exotic oddity, avocado has become a staple ingredient in health-conscious kitchens. After all, what's not to love about it? Rich, buttery and packed with healthy fats and nutrients, the avocado deserves a starring role in a range of dishes.
Chickpea-Spinach Pasta with Creamy Avocado Sauce
Looking for proof that avocado has impressive chameleon capabilities in the kitchen? Here, it's used to make a creamy pasta sauce that's also healthy.
1/2 lb (225 g) whole grain fusilli or rotini pasta
1 avocado
Juice of 1 lemon
1/2 tsp (2 mL) chili powder
2 pinches of salt, plus extra for pasta water
2 tsp (10 mL) grapeseed or olive oil
2 cups (500 mL) cherry or grape tomatoes, halved
1/2 cup (125 mL) chopped shallots
2 garlic cloves, chopped
4 cups (1 L) spinach, any tough ends trimmed
2 cups (500 mL) cooked or canned chickpeas, drained and rinsed if using canned
1/3 cup (80 mL) sliced fresh basil
Shaved or grated Parmesan cheese (optional)
In large saucepan of lightly salted boiling water, prepare pasta according to package directions. Reserve 1/2 cup (125 mL) cooking liquid and drain.
In blender or food processor, purée together avocado flesh, 1/4 cup (60 mL) reserved pasta cooking water, lemon juice, chili powder and salt. Add extra pasta cooking water if needed to reach a creamy consistency.
Heat oil in large skillet over medium heat. Place tomatoes, shallots and garlic in skillet and heat until tomatoes have started to shrivel. Place spinach in pan and heat just until greens have slightly wilted. Stir in pasta, chickpeas and avocado sauce; warm through.
Serve pasta topped with basil, Parmesan (if using) and freshly cracked black pepper.
Serves 4.
Each serving contains: 471 calories; 19 g protein; 13 g total fat (2 g sat. fat, 0 g trans fat); 78 g total carbohydrates (7 g sugars, 11 g fiber); 193 mg sodium
Chilled Avocado-Asparagus Soup
After a long winter of steamy soups, this cold version is sure to bowl you over with its bright, earthy flavor.
2 tsp (10 mL) + 2 Tbsp (30 mL) olive oil
1 bunch asparagus, trimmed and chopped into 1 in (2.5 cm) pieces
1 yellow onion, chopped
1/2 tsp (2 mL) salt
2 garlic cloves, sliced
1 jalapeño pepper, seeded and chopped
1 tsp (5 mL) ground coriander
1/4 tsp (1 mL) black pepper
1 cup (250 mL) frozen shelled edamame (soy beans)
3 cups (750 mL) low-sodium vegetable broth
2 avocados
1/3 cup (80 mL) fresh mint
Juice of 1/2 lemon
1/3 cup (80 mL) toasted pumpkin seeds
1/4 cup (60 mL) chopped chives
Heat 2 tsp (10 mL) oil in large saucepan over medium heat. Add asparagus, onion and salt; heat until vegetables have softened. Add garlic, jalapeño, coriander and black pepper to pan; heat for 30 seconds. Add edamame and broth to pan, bring to a simmer and heat for 15 minutes.
Place mixture in blender or food processor container along with avocado flesh, mint and lemon juice. Blend until smooth. Blend in more broth if mixture is too thick. With machine running on low speed, slowly pour in remaining 2 Tbsp (30 mL) oil through feed tube. Chill soup for at least 2 hours.
Serve soup garnished with pumpkin seeds and chives. If needed, thin soup with water before serving.
Serves 6.
Each serving contains: 294 calories; 10 g protein; 22 g total fat (3 g sat. fat, 0 g trans fat); 18 g total carbohydrates (4 g sugars, 9 g fiber); 276 mg sodium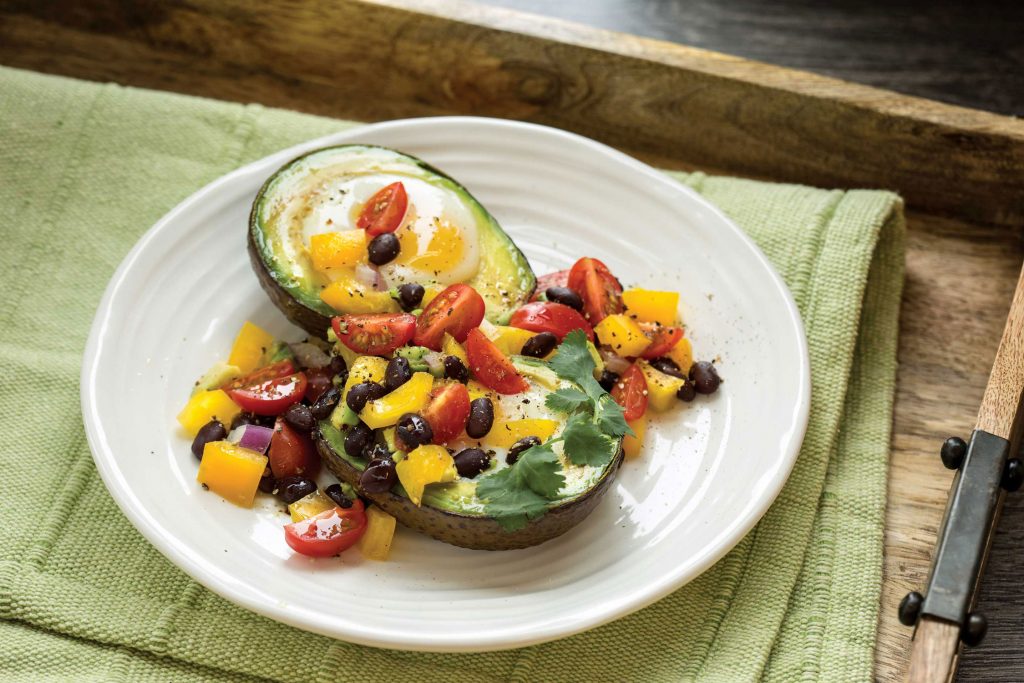 Avocado Egg Boats with Bean Salsa
This meal works perfectly for breakfast, lunch, or a weeknight dinner.
2 large avocados, halved and pits removed
4 large eggs
1/4 tsp (1 mL) salt, divided
Pinch of black pepper
1/2 cup (125 mL) diced red onion
1 cup (250 mL) cooked or canned black beans, drained and rinsed if using canned
1 small yellow or orange bell pepper, diced
1 cup (250 mL) cherry tomatoes, quartered
1/3 cup (80 mL) chopped cilantro
Juice of 1/2 lime
Hot sauce (optional)
Preheat oven to 400 F (200 C). Scoop out about 1/3 of the flesh from middle of avocado halves. Dice removed flesh and set aside.
Place avocado halves on parchment paper- or baking mat-lined baking sheet and carefully crack 1 egg into the well of each avocado half. There might be a little overspill of egg white. Season with pinches of salt and pepper. Bake until eggs are to desired doneness, about 17 minutes for still-runny yolks.
Toss onion with reserved avocado, black beans, bell pepper, tomatoes, cilantro, lime juice and a couple pinches of salt.
Place avocado egg boats on serving plate and scatter salsa about. Top with hot sauce, if desired.
Serves 4.
Each serving contains: 315 calories; 13 g protein; 20 g total fat (4 g sat. fat, 0 g trans fat); 25 g total carbohydrates (3 g sugars, 12 g fiber); 227 mg sodium