3 recipes that elevate any dish
When it comes to salsa, most of us immediately envision saucy chopped tomatoes bathed in fiery garlic and scorching chilies. But really, salsa just means "sauce," so salsa can be made with different ingredients with varying heat levels, textures and flavor combinations.
Using salsa as a sauce automatically boosts your intake of fruit and vegetables while keeping sodium, sugar and fat levels in check. Plus, DIY salsa is easier than you think. If you can chop, you can make salsa!
Cucumber Soup with Jalapeno-Tomato Salsa
Light bodied, mild cucumber broth is paired with a hearty, smoky salsa to make it come alive.
24 cherry tomatoes
1 large or 2 small jalapeno peppers
1/2 tsp (2 mL) olive oil
1 avocado, pitted and diced
1/2 lime, juiced
1/8 tsp (0.5 mL) ground cumin
Sea salt, to taste (optional)
3 English cucumbers, peeled and seeded
To make grilling easier, thread tomatoes and jalapenos on skewers. Brush with oil. Grill over medium-high heat, turning often, until lightly charred, 2 to 3 minutes, or broil in oven until skins start to blister, 1 to 2 minutes.
Remove peppers and tomatoes from skewers. Place tomatoes in bowl and coarsely mash. Remove seeds and finely chop jalapenos, then add to bowl with tomatoes. Stir in avocado, lime juice and cumin. Taste and add salt, if you wish. Set salsa aside.
Coarsely chop cucumbers. Working in batches, whirl in a blender. Strain half the liquid through sieve and discard solids. You should have about 3 cups (750 mL) cucumber soup. Refrigerate until well chilled, about 1 hour.
To serve, spoon salsa into center of chilled bowls. Ladle cucumber overtop.
Serves 6.
Each serving contains: 118 calories; 3 g protein; 6 g total fat (1 g sat. fat, 0 g trans fat); 16 g total carbohydrates (7 g sugars, 5 g fiber); 13 mg sodium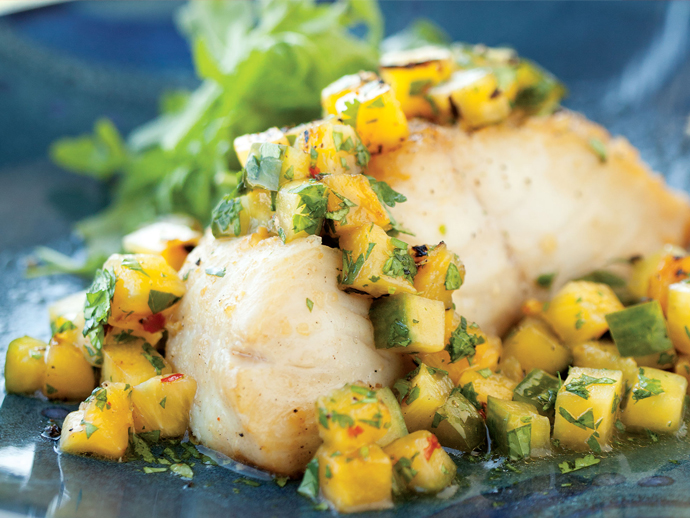 Grilled Fish with Spicy Pineapple Salsa
Grilling pineapple brings out its natural sweetness while layering in deep smoky flavor at the same time.
Marinade for Fish
2 Tbsp (30 mL) maple syrup
1 Tbsp (15 mL) miso paste
1 Tbsp (15 mL) soy sauce
1 Tbsp (15 mL) sesame oil
1 Tbsp (15 mL) olive oil
1/2 lime, juiced
16 oz (450 g) fish fillet, like black cod, halibut or salmon
Salsa
1/2 pineapple, peeled, cored and sliced into thick rings
1 1/2 tsp (7 mL) olive oil, divided
1/2 cup (125 mL) diced cucumber
1/4 cup (60 mL) chopped cilantro, basil or tarragon
1/4 (1 tsp) dried chili flakes
1/2 lime, juiced
For marinade, whisk maple syrup with miso, soy sauce, sesame oil, olive oil and lime juice. Place fish in pie plate and pour marinade overtop. Turn fish over a few times to coat evenly. Cover and refrigerate for 20 to 30 minutes before grilling.
For salsa, brush pineapple rings with 1/2 tsp (2 mL) oil. Preheat barbecue to medium-high.
Grill pineapple over medium-high heat, turning often, until lightly charred, 2 to 4 minutes. Remove each piece as done to a cutting board. Place fish, skin-side down, on grill. Brush top with residual marinade. Close lid and reduce heat to medium. Grill, without turning fish over, until cooked through. Estimate about 5 minutes per 1/2 in (1.25 cm). Remove to plate and let rest for 5 minutes.
Meanwhile, dice pineapple, then place in bowl. Stir in cucumber, cilantro and chili flakes. Drizzle with remaining 1 tsp (5 mL) oil and squeeze juice from lime overtop. Stir to mix. Place fish on plates and divide salsa overtop.
Serves 4.
Each serving contains: 248 calories; 22 g protein; 8 g total fat (1 g sat. fat, 0 g trans fat); 24 g total carbohydrates (18 g sugars, 2 g fiber); 348 mg sodium
Greek Chicken Kebabs with Radish, Cucumber and Feta Salsa
Herby chicken shines under a vibrant salsa with crunchy cucumber and zippy radish, the hidden gem here.
Kebabs
3 Tbsp (45 mL) olive oil
1 Tbsp (15 mL) red wine vinegar
1 to 1 1/2 Tbsp (15 to 22 mL) dried oregano leaves
2 to 3 garlic cloves, minced
1/2 tsp (2 mL) sea salt
2 skinless, boneless chicken breasts, cut into small pieces
1 red onion, coarsely chopped
Salsa
4 radishes, thinly sliced
1 small English cucumber, seeded and coarsely chopped
1/2 cup (125 mL) crumbled feta cheese
1/4 cup (60 mL) each chopped parsley and mint
1 Tbsp (15 mL) olive oil
2 tsp (10 mL) red wine vinegar
4 pitas (optional)
For kebabs, in large bowl, whisk oil with vinegar, oregano, garlic and salt. Add chicken and onion; toss to coat. Cover and refrigerate at least 30 minutes or overnight.
For salsa, in bowl toss radishes with cucumber and cheese. Sprinkle with herbs, oil and vinegar. Stir to mix evenly.
When ready to grill, oil grate and preheat barbecue to medium-high. Alternately, thread chicken and onion onto skewers, leaving room between pieces so they cook faster. Grill, turning often, until chicken is cooked through, 6 to 8 minutes.
To serve, slide meat and onion from skewers onto grilled pitas, if using. Top with salsa and serve.
Serves 4.
Each serving contains: 313 calories; 25 g protein; 19 g total fat (5 g sat. fat, 0 g trans fat); 11 g total carbohydrates (6 g sugars, 2 g fiber); 570 mg sodium