3 recipes to power your day
Whether you're brown bagging it at the office, packing a school lunch or simply sitting down for a midday meal, these satisfying lunches mix proteins and smart carbs, and are ideal for anyone.
Tuna Niçoise Wraps
This classic salad easily transforms into a lunch wrap. Swap tuna for cooked salmon or chicken if you have leftovers. Savory Greek yogurt spread and eggs provide an extra boost of protein.
1/3 cup (80 mL) Greek yogurt
8 niçoise olives, pitted and finely chopped
1 tsp (5 mL) finely chopped capers
1 tsp (5 mL) dried tarragon
4 large tortillas or wraps
1 cup (250 mL) packed baby spinach leaves
4 oz (112 g) green or yellow beans, blanched
1 – 6 oz (170 g) can tuna, packed in water
2 hard-cooked eggs, sliced
1 tomato, chopped
Sea salt and ground black pepper, to taste (optional)
In bowl, mix yogurt with olives, capers and tarragon. Divide and spread mixture over tortillas or wraps. Scatter spinach overtop, then divide and arrange beans in center. Crumble tuna overtop and scatter with egg slices and tomato. Season with salt and pepper.
Fold top and bottom of each tortilla inward to cover some of the filling, and then roll up tightly. Wrap in parchment paper and refrigerate until ready to eat. These are best eaten the same day they're made.
Serves 4.
Each serving contains: 227 calories; 20 g protein; 6 g total fat (2 g sat. fat, 0 g trans fat); 25 g total carbohydrates (3 g sugars, 4 g fiber); 251 mg sodium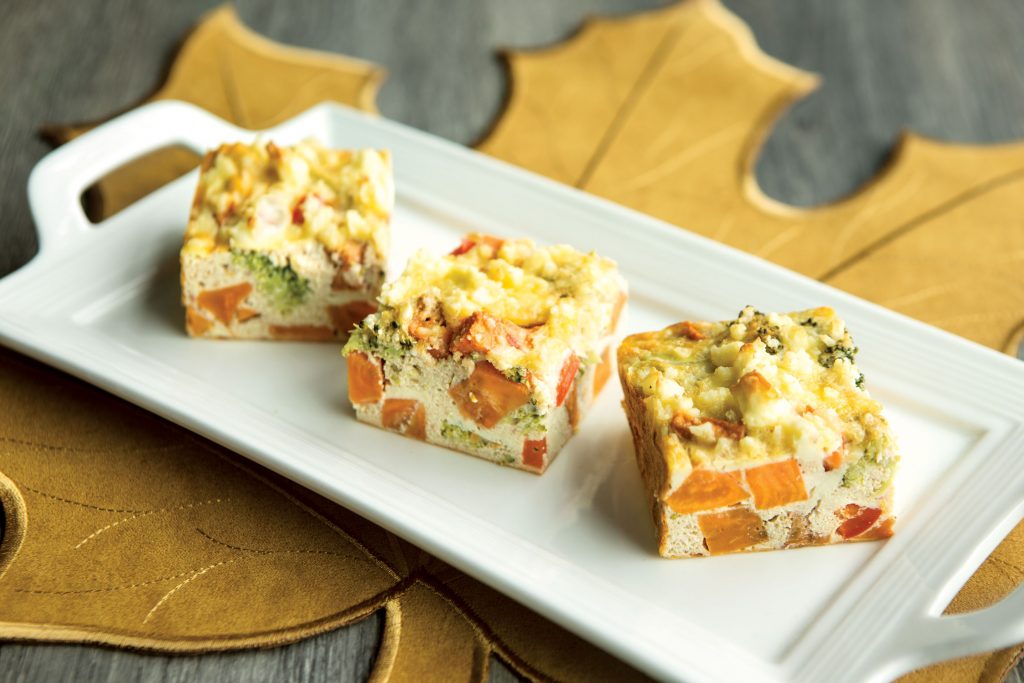 Sweet Potato, Egg and Tofu Squares
Get your egg on at lunchtime! Plus, get double the protein power with eggs and tofu.
6 eggs
1/2 – 300 g package soft tofu
3 sun-dried tomatoes, packed in oil, chopped
Sea salt, to taste
1 large sweet potato, cooked, peeled and chopped
1/2 red pepper, chopped
1 cup (250 mL) chopped broccoli florets
3/4 cup (180 mL) crumbled feta or grated cheddar
Preheat oven to 350 F (180 C).
Crack eggs into large bowl and crumble in tofu. Add sun-dried tomatoes and salt. Using hand blender, whirl until well mixed. Stir in sweet potato, red pepper and broccoli.
Pour into 8 in (20 cm) square baking dish lined with parchment paper (to make serving and clean-up easier). Sprinkle with cheese and then bake until eggs are set, 35 to 40 minutes. Let stand for 5 minutes and then cut into squares.
Serves 4.
Each serving contains: 266 calories; 19 g protein; 15 g total fat (7 g sat. fat, 0 g trans fat); 17 g total carbohydrates (6 g sugars, 3 g fiber); 465 mg sodium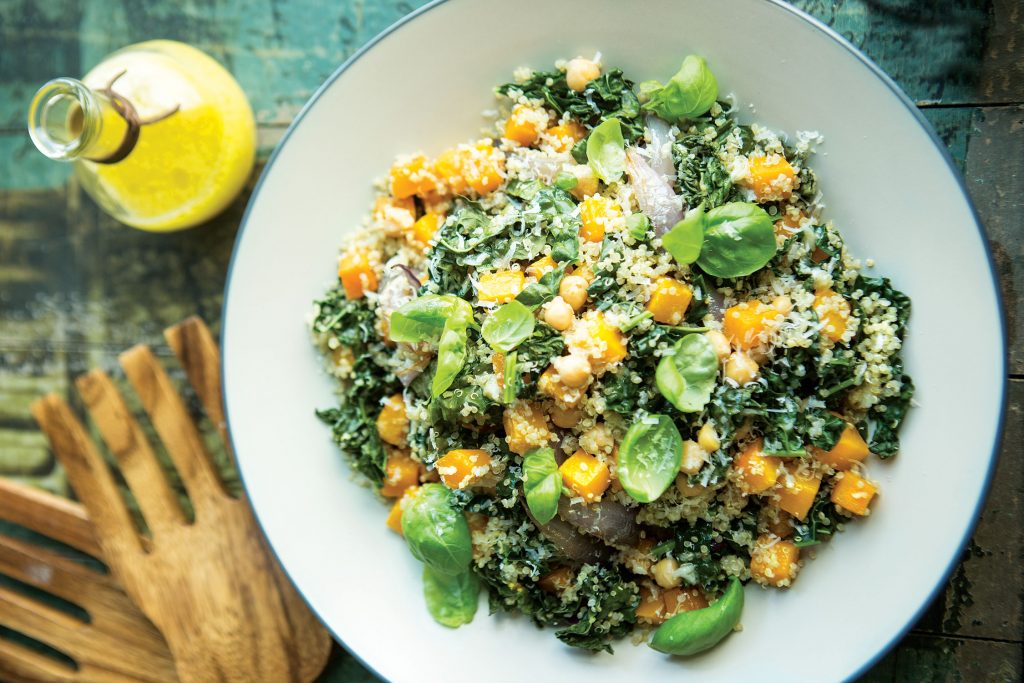 Kale, Squash and Quinoa Salad
To bump up the protein content, sprinkle with chopped almonds or walnuts, or top with a poached egg.
Dressing
1/4 cup (60 mL) lemon juice
1/2 tsp (2 mL) Dijon mustard
3 Tbsp (45 mL) olive oil
Salad
3 cups (750 mL) diced squash
4 garlic cloves, unpeeled
1/2 red onion, cut into wedges
1 Tbsp (15 mL) olive oil
Sea salt and ground black pepper, to taste
1 1/2 cups (350 mL) red or yellow quinoa
1/2 small bunch kale (about 3 cups/750 mL packed), stemmed and thinly sliced
1 cup (250 mL) cooked chickpeas (or canned, drained and rinsed)
1/2 cup (125 mL) chopped fresh basil or cilantro
1/2 cup (125 mL) grated Parmesan cheese
Preheat oven to 400 F (200 C).
For the dressing, whisk lemon juice with mustard, then whisk in oil. Set aside.
For the salad, toss squash, unpeeled garlic cloves and onion with 1 Tbsp (15 mL) oil. Season with salt and pepper. Spread out on baking sheet and roast in preheated oven until squash is tender, about 20 minutes.
Meanwhile, in large, wide pot, combine quinoa with 2 1/2 cups (625 mL) water. Bring to a boil, then reduce heat to low. Cover and simmer for 10 minutes. Add kale, then cover and remove from heat. Let stand for 5 minutes, until wilted. Drain off any excess water and then turn mixture into large bowl. Add roasted squash and onion, chickpeas, basil and Parmesan.
Squeeze garlic from skins onto cutting board. Using flat side of knife, mash to a paste. Whisk garlic into dressing. Pour over salad and toss to mix evenly.
Serves 6.
Each serving contains: 307 calories; 11 g protein; 14 g total fat (3 g sat. fat, 0 g trans fat); 38 g total carbohydrates (4 g sugars, 6 g fiber); 159 mg sodium