Delectable recipes for a healthy journey
Over a woman's lifetime, her health concerns and nutrient needs can vary. Of course, the best way to obtain optimal nutrition is from eating nutritious food. We've put together some excellent recipes that are not only delicious, but also packed with all the nutrients that women need in the various stages of their lives.
One-Pot Garlic-Laced Linguine with Clams and Black Beans
SERVES 6
Adolescent girls and young women have an increased need for iron-rich foods—such as this iron-rich pasta dish.
3/4 lb (350 g) linguine pasta
3 Tbsp (45 mL) olive oil, plus extra, if desired
1/2 red onion, thinly sliced
4 large garlic cloves, peeled and shaved
1/4 tsp (1 mL) crushed red pepper flakes
1/4 cup (60 mL) dry white wine
2 cups (500 mL) cherry tomatoes, halved
2 lbs (1 kg) baby clams, scrubbed
1 cup (250 mL) black beans, rinsed and well drained
1/2 cup (125 mL) chopped parsley
Freshly ground black pepper (optional)
In large saucepan, partially cook linguine in lightly salted boiling water for 6 minutes, or still very firm—but not al dente. Reserve 1 1/2 cups (350 mL) pasta water and set aside. Drain remaining water from pasta and place pasta in large bowl.
Add oil to saucepan and heat just until shimmering. Add onion, garlic, and red pepper flakes. Sauté over medium heat until soft but not browned, about 2 or 3 minutes. Add wine, tomatoes, and clams. Cover and cook, shaking pan a few times, until clams have opened, about 5 minutes. Using slotted spoon, lift lid, removing clams that have opened to a separate dish.
When all clams are removed, add reserved pasta water and black beans to saucepan with tomatoes and bring to a boil. Add partially cooked linguine and cook, tossing pasta with tongs several times, until pasta is al dente, about 2 more minutes.
Remove from heat and return clams and any accumulated juices to saucepan. Add parsley and toss to evenly mix. Divide among 6 serving bowls and drizzle with a little extra oil and a sprinkling of black pepper, if you wish.
Each serving contains: 420 calories; 45 g protein; 10 g total fat (1 g sat. fat, 0 g trans fat); 34 g total carbohydrates (3 g sugars, 5 g fiber); 179 mg sodium
Marinated Salmon Fillet with Vegetable Salad
SERVES 4
As women enter their fifties, there's an increased need for vitamin D as well as omega-3s and potassium. Vitamin-rich salmon is also packed with healthy omega-3 fats.
1 Tbsp (15 mL) white miso paste
2 1/2 Tbsp (37 mL) rice vinegar or cider vinegar, divided
2 Tbsp (15 mL) low-sodium soy sauce, divided
1/4 tsp (1 mL) shichimi togarishi spice (Japanese spice mixture, optional)
1 lb (450 g) boneless, skin-on salmon fillet
2 cups (500 mL) bite-sized broccoli florets
1 cup (250 mL) halved cherry tomatoes
1/2 unpeeled English cucumber, thinly shaved into rounds
3 Tbsp (45 mL) grapeseed oil, divided
1 tsp (5 mL) toasted sesame oil
1/4 cup (60 mL) chopped fresh parsley
2 Tbsp (30 mL) finely chopped mint
1 Tbsp (15 mL) toasted sesame seeds
In small bowl, combine miso paste, 1 Tbsp (15 mL) vinegar, 1 Tbsp (15 mL) soy sauce, and shichimi togarishi, if using. Stir to blend. Add a splash of water, if needed, to loosen mixture. On parchment-lined baking sheet, place salmon fillet, skin-side down, and spread miso mixture evenly overtop. Place salmon in refrigerator while preparing salad. Marinate for no longer than 20 minutes.
In large bowl, combine broccoli, tomatoes, and cucumber. In small bowl, combine 2 Tbsp (30 mL) grapeseed oil, 1 1/2 Tbsp (22 mL) rice vinegar, 1 Tbsp (15 mL) soy sauce, and sesame oil. Whisk to blend. Drizzle over vegetables and lightly toss to coat. Salad can be made several hours ahead, before adding parsley, mint, and sesame seeds. Simply cover and marinate in refrigerator.
Preheat oven to 400 F (200 C). Place baking sheet with salmon in oven and bake for 12 to 15 minutes or until almost baked through. Salmon will continue to cook once removed from oven.
Sprinkle parsley, mint, and sesame seeds over salad ingredients and gently toss together. Scatter overtop of salmon. Serve immediately.
Each serving contains: 314 calories; 26 g protein; 20 g total fat (3 g sat. fat, 0 g trans fat); 7 g total carbohydrates (2 g sugars, 2 g fiber); 726 mg sodium
Energizing Smoothie
SERVES 1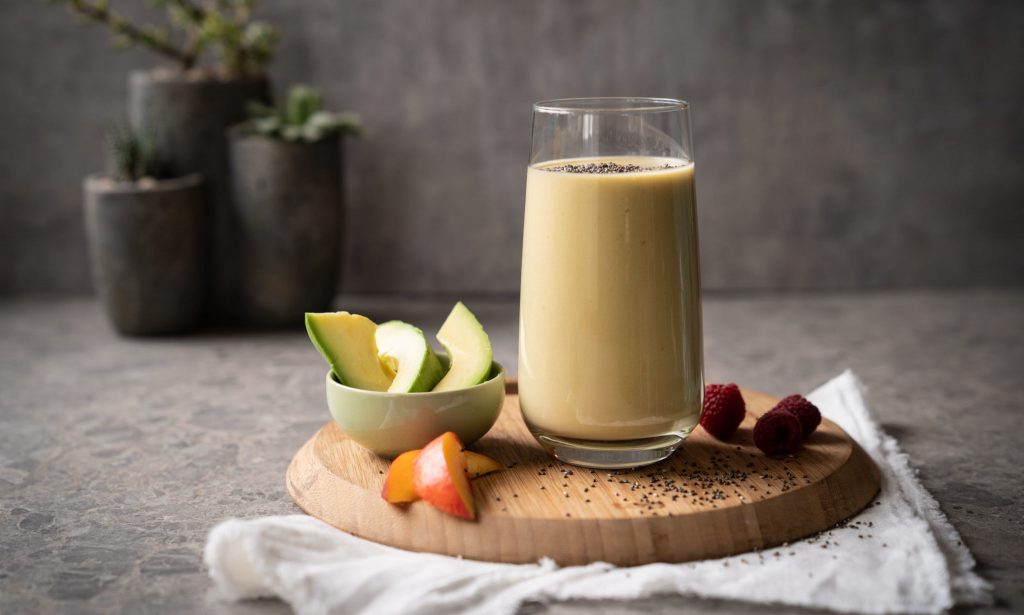 Rich, nutrient-packed avocados not only give this smoothie a smooth taste boost, but they also boast a load of good-for-you potassium, B vitamins, and magnesium.
1 cup (250 mL) orange juice
3 to 4 oz (85 to 113 g) avocado slices
1 banana
1 scoop of protein powder
1 Tbsp (15 mL) chia seeds (optional)
In high-speed blender, combine juice, avocado, banana, and protein powder. Whirl until smooth and creamy. Add some water if you wish. Sprinkle with chia seeds, if using. Sip and enjoy.
Each serving contains: 567 calories; 29 g protein; 23 g total fat (3 g sat. fat, 0 g trans fat); 71 g total carbohydrates (37 g sugars, 15 g fiber); 164 mg sodium