Help support your gut
Most of us encounter digestive issues from time to time. But for those who suffer with chronic digestive problems such as irritable bowel syndrome (IBS), following restrictive diets is often the only resolution.
These diets often sport interesting acronyms:

low-FODMAP: low-fermentable oligosaccharides, disaccharides, monosaccharides, and polyols (short-chain carbohydrates, or sugars, that aren't absorbed properly in the gut by some people)
SCD: specific carbohydrate diet
AIP: autoimmune protocol
GAPS: gut and psychology syndrome
Before following any specific diet, it's important to be thoroughly checked by a health care practitioner. Depending on your unique needs, the following recipes may be suitable. And for those without chronic digestive complaints, all of these recipes are still absolutely delicious!
Roasted Cauliflower Salad


SCD & GAPS
Use as much nose-tickling ginger and anti-inflammatory turmeric as you like.
Cauliflower
1 small head cauliflower, chopped into small florets
1/2 tsp (2 mL) salt
1 tsp (5 mL) olive oil
1 1/2 Tbsp (22 mL) dried tarragon leaves
1 Tbsp (15 mL) fresh oregano leaves, or 1 tsp (5 mL) dried
Vinaigrette
1/3 cup (80 mL) fresh lemon juice
1 tsp (5 mL) honey (optional)
1/2 tsp (2 mL) salt
1/8 tsp (0.5 mL) black pepper
1/4 cup (60 mL) chopped green onions or chives (green parts of green onions only)
2 Tbsp (30 mL) grated peeled gingerroot
1 Tbsp (15 mL) grated turmeric root, or 1/2 tsp (2 mL) dried turmeric
1 Tbsp (15 mL) olive oil
Salad
1 zucchini, sliced into noodles using a vegetable peeler, box grater, or mandoline
2 large carrots, sliced into noodles
1/2 cup (125 mL) chopped parsley
1/4 cup (60 mL) toasted almond slices, pecans, or hazelnuts
Preheat oven to 375 F (190 C). In bowl, toss cauliflower with 1/2 tsp (2 mL) salt, 1 tsp (5 mL) olive oil, tarragon, and oregano. Spread on baking sheet and roast for 10 minutes. Stir and return to oven for another 10 to 15 minutes, until cauliflower florets have softened and browned.
Meanwhile, in sealable jar, shake all vinaigrette ingredients. Taste and adjust with more honey, salt, or lemon juice.
Combine roasted cauliflower with remaining salad ingredients and toss with vinaigrette.
Serves 8.
Each serving contains: 67 calories; 3 g protein; 3 g total fat (0.5 g sat. fat, 0 g trans fat); 10 g total carbohydrates (4 g sugars, 3 g fiber); 333 mg sodium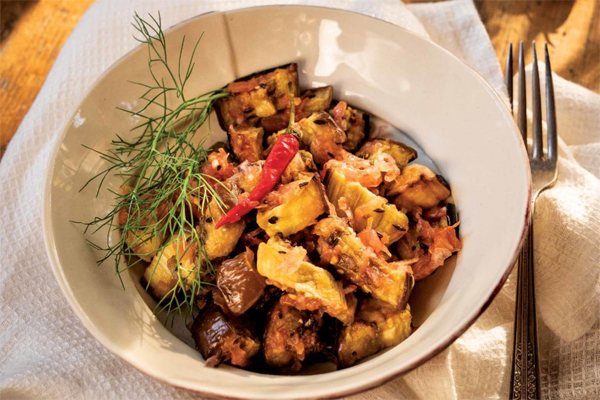 Indian Eggplant and Tomatoes
Low-FODMAP & SCD & GAPS
Fennel seed and cumin add explosions of flavor for an Indian version of a lightened-up French ratatouille without the onions.
2 lbs (1 kg) eggplant (about 6 Asian eggplants or 2 Italian dark purple eggplants)
1/2 tsp (2 mL) salt, divided
2 Tbsp (30 mL) olive oil, divided
1/2 tsp (2 mL) fennel seeds
1 tsp (5 mL) black cumin seeds
1 tsp (5 mL) regular cumin seeds
1 dried hot chili pepper
4 firm tomatoes, or enough to make 2 cups (500 mL) grated tomatoes
Wash unpeeled eggplants and cut into 2 x 1 in (5 x 2.5 cm) pieces. Toss in bowl with 1/4 tsp (1 mL) salt and 1 1/2 Tbsp (22 mL) oil. Transfer to baking sheet and broil on high about 5 in (12 cm) from broiler element (a rack in the middle of the oven usually works) for 8 minutes. Turn eggplant pieces and broil for another 8 minutes. Unstick eggplant from baking sheet, but leave on sheet to cool slightly while toasting spices.
Meanwhile, on coarse side of box grater, carefully grate tomatoes. Discard or dice the peel.
In large saucepan over medium-high, heat remaining 1 1/2 tsp (7 mL) oil. When hot, add fennel and cumin seeds and whole dried hot chili pepper and cook, stirring, for about 1 minute. Add tomatoes, eggplant pieces, and remaining 1/4 tsp (1 mL) salt. Stir and bring to a boil; cover and reduce heat to medium-low. Cook for 20 minutes, stirring occasionally.
Serve with basmati rice for low-FODMAP or grated cauliflower "rice" for SCD and GAPS.
Serves 4.
Each serving contains: 142 calories; 4 g protein; 8 g total fat (1 g sat. fat, 0 g trans fat); 18 g total carbohydrates (9 g sugars, 9 g fiber); 305 mg sodium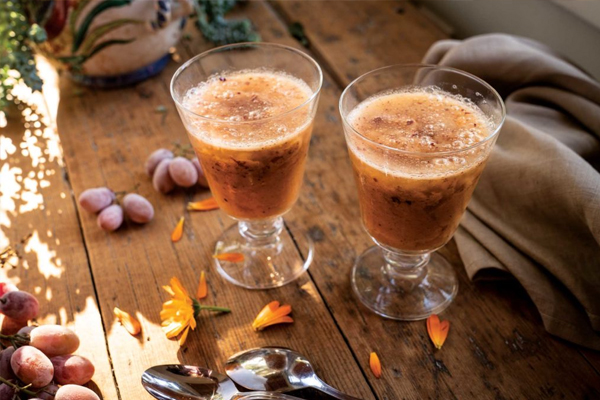 Cream Soda Parfait
Low-FODMAP & SCD & AIP & GAPS
This treat works for all diets, but it will only be as sweet as the fruit you use, so choose fully ripe fruit.
10 frozen red grapes
2 cups (500 mL) frozen cantaloupe chunks
1 vanilla bean
1 cup (250 mL) frozen papaya chunks or more cantaloupe
1/2 ripe banana, divided
1 tsp (5 mL) lemon juice
Sparkling water
Remove fruit from freezer and leave on counter for 15 minutes to thaw slightly. Scrape seeds from vanilla bean and place half of them in blender with semi-thawed cantaloupe, half the required banana and lemon juice. Blend and taste, adding more banana for sweetness or lemon juice, if desired. Divide blended mixture between 2 wine or parfait glasses.
Without rinsing out blender, blend papaya with grapes, remaining banana, and vanilla bean seeds. Taste and add more grapes for sweetness, if desired. Divide between 2 glasses to 3/4 in (2 cm) below the rim. Top with sparkling water. Eat with a spoon so bubbles mix with fruit when you dip into the purée below. Top up with more sparkling water, as desired.
Serves 2.
Each serving contains: 125 calories; 2 g protein; 0.5 g total fat (0.2 g sat. fat, 0 g trans fat); 31 g total carbohydrates (24 g sugars, 3 g fiber); 29 mg sodium