Healthy food that's full of heart
We're told that we should try to eat various colored foods throughout the day. That's because different hues signal that different nutrients and antioxidants are being offered. With February being Heart Month and also the time when Valentine's Day falls on the calendar, there is no better time to make sure your diet is splashed in red.
Granola Raspberry Chia Pudding

Tangy and deliciously thick with a finishing crunch, this make-ahead breakfast is a great way to break out of a cereal rut.
1/2 cup (125 mL) milk or unsweetened nondairy milk
1 cup (250 mL) plain Greek yogurt
1 cup (250 mL) fresh or frozen (thawed) raspberries, plus more for topping
2 Tbsp (30 mL) fresh mint (optional)
2 tsp (10 mL) honey
1 tsp (5 mL) lemon zest
1 tsp (5 mL) vanilla extract
1/2 tsp (2 mL) cinnamon
Pinch of salt
4 Tbsp (60 mL) chia seeds
2/3 cup (160 mL) low-sugar granola
2 Tbsp (30 mL) chopped pistachios
Place milk, yogurt, raspberries, mint (if using), honey, vanilla, lemon zest, cinnamon, and a pinch of salt in blender and blend until smooth.
Divide mixture between 2 wide-mouth jars, add 2 Tbsp (30 mL) chia seeds to each jar, and stir to combine. Seal jar and chill overnight. The chia seeds will soak up the liquid and create a thick texture.
When ready to serve, top each jar with an equal amount of granola, pistachios, and raspberries.
Serves 2.
Each serving contains: 462 calories; 22 g protein; 16 g total fat (2 g sat. fat, 0 g trans fat); 60 g total carbohydrates (20 g sugars, 21g fiber); 80 mg sodium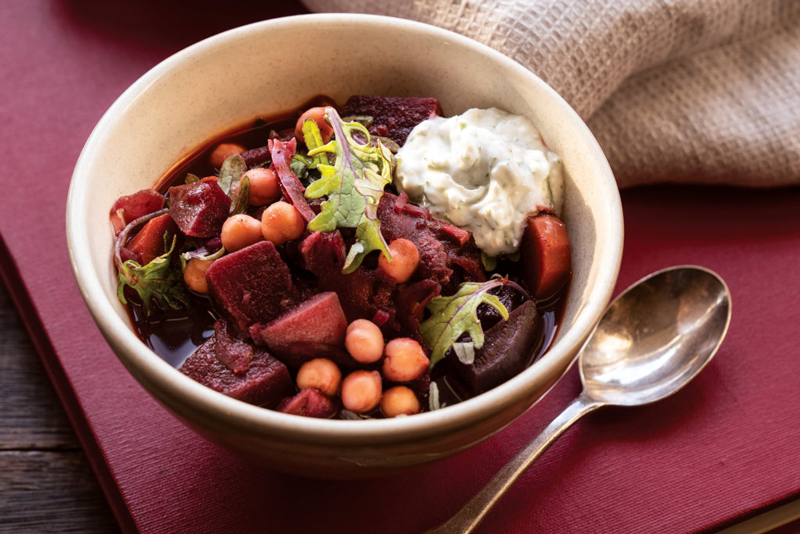 Borscht
A culinary gift from Ukraine, borscht is a veggie-laden, hearty, warming soup that is colored perfectly for the season.
1 Tbsp (15 mL) grapeseed oil or sunflower oil
1 yellow onion, chopped
1/2 tsp (2 mL) salt
4 medium red beets, peeled and chopped into 1 in (2.5 cm) pieces
2 medium red-skinned unpeeled potatoes, cut into 1 in (2.5 cm) pieces
2 large carrots, peeled and sliced
3 cups (750 mL) shredded red cabbage
3 garlic cloves, chopped
2 Tbsp (30 mL) tomato paste
1 Tbsp (15 mL) honey
2 tsp (10 mL) paprika
1/2 tsp (2 mL) black pepper
1/4 tsp (1 mL) cinnamon
5 cups (1.25 L) salt-free vegetable broth
1 bay leaf
1 1/2 cups (350 mL) cooked or canned chickpeas
2 Tbsp (30 mL) balsamic vinegar
1/2 cup (125 mL) baby red Russian kale, optional
1/2 cup (125 mL) plain yogurt
1/4 cup (60 mL) chopped dill
2 Tbsp (30 mL) prepared horseradish
Heat oil in a 6 L large saucepan over medium heat. Add onion and salt; heat until onion has softened and is beginning to brown; about 5 minutes. Add beets, potatoes, and carrots to pan; heat for 5 minutes.
Add cabbage and garlic; stir and cook for another 3 minutes. Add tomato paste, honey, paprika, black pepper, and cinnamon to pan; stir and heat for 30 seconds.
Place broth and bay leaf in pan. Bring to a boil, reduce heat to low, and simmer, covered, for 20 minutes. Stir in chickpeas and balsamic vinegar and continue to simmer, uncovered, until beets are tender, about 20 minutes. Fold in baby kale, if using.
In bowl, stir together yogurt, dill, horseradish, and a pinch of salt.
Place soup in serving bowls and top with a swirl of yogurt sauce.
Serves 6.
Each serving contains: 238 calories; 10 g protein; 4 g total fat (1 g sat. fat, 0 g trans fat); 46 g total carbohydrates (18 g sugars, 8 g fiber); 391 mg sodium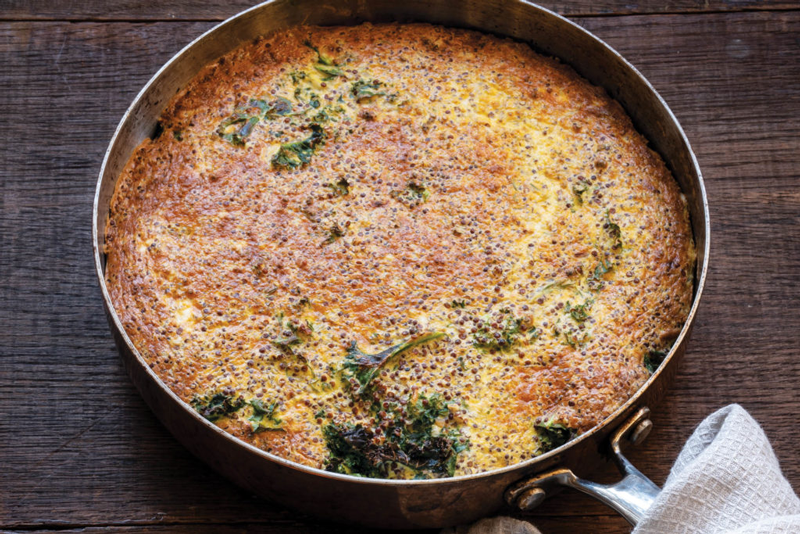 Quinoa Kale Frittata
This frittata is a celebration of heirloom varieties of quinoa and kale that show their blush.
3/4 cup (180 mL) red quinoa
8 large eggs
1/3 cup (80 mL) regular or nondairy milk
1/2 cup (125 mL) grated Parmesan cheese
2 tsp (10 mL) fresh thyme
1/2 tsp (2 mL) black pepper
2 tsp (10 mL) grapeseed oil or sunflower oil
3 shallots, chopped
2 garlic cloves, minced
6 cups (1.5 L) roughly chopped kale
1/2 cup (125 mL) dry-packed sun-dried tomatoes
1/2 cup (125 mL) sour cream
1 roasted red pepper
Juice of 1/2 lemon
1/4 tsp (1 mL) cayenne
In saucepan, cook quinoa according to package directions.
In large bowl, whisk together eggs, milk, Parmesan, thyme, and black pepper. Stir in cooked and cooled quinoa.
Preheat broiler with the rack about 6 in (15 cm) from the top. In 8 in (20 cm) ovenproof skillet, heat oil over medium heat. Add shallots and garlic; heat for 2 minutes. Stir in kale and heat until wilted but still bright green. Carefully pour egg mixture into skillet. Cook for 3 minutes, without stirring. Place pan in oven and broil frittata until top is lightly browned and eggs have firmed up in center, about 4 minutes. Remove frittata from oven and let rest for 3 minutes. Loosen edges with spatula and cut into 4 wedges.
To make sauce, place tomatoes in bowl and cover with 1 cup (250 mL) hot water; let soak for 15 minutes. In blender or food processor, place tomatoes, 2 Tbsp (30 mL) soaking liquid, sour cream, roasted red pepper, lemon juice, and cayenne; blend until smooth. If needed, add more soaking liquid to help with blending.
Serve frittata wedges with tomato sauce.
Serves 4.
Each serving contains: 456 calories; 29 g protein; 21 g total fat (7 g sat. fat, 0 g trans fat); 40 g total carbohydrates (5 g sugars, 5 g fiber); 567 mg sodium