Meals for a healthy complexion
The skin, our body's largest organ and the one we're likely most familiar with, is exposed to the elements on a daily basis and is changing over the course of a lifetime.
Expensive lotions, serums, and the like are mostly unnecessary (don't skip the daily sunscreen though!), as the effect our diets and lifestyle have on our exterior, over time, likely makes far more of a difference in terms of protecting and enhancing skin. Top skin ingredients are featured prominently throughout this menu, taking the guesswork out of eating for manageable, amazing skin.
Breakfast Crumble
SERVES 7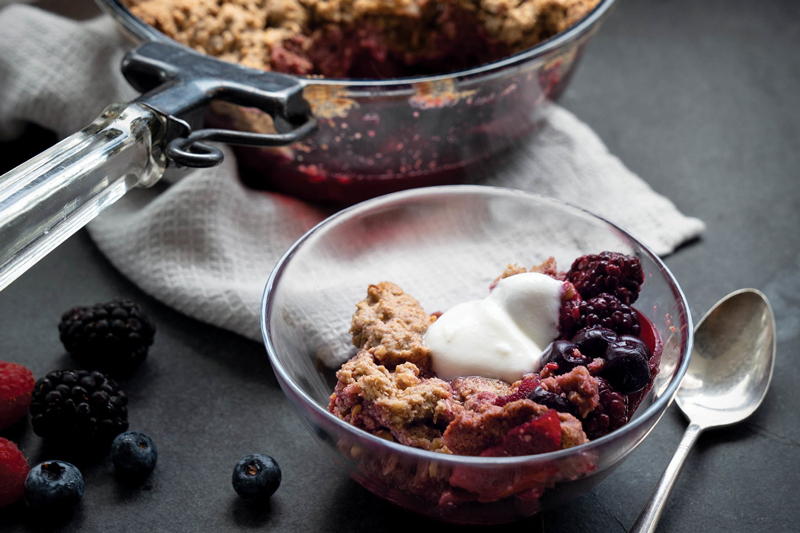 This breakfast crumble includes flaxseed, rich in omega-3s to deliver anti-inflammatory benefits; berries, a source of vitamin C-supplying antioxidant action; and fiber-rich apples, because a well-functioning digestive system can contribute to a healthy complexion.
Oat-flax crumble
2 cups (500 mL) oat flour
1 cup (250 mL) rolled oats
1/2 cup (125 mL) ground flaxseed
2 tsp (10 mL) ground cinnamon
1/2 tsp (2 mL) salt
1/2 cup (125 mL) olive oil
1/2 cup (125 mL) honey or maple syrup
Fruit filling
4 apples or pears, unpeeled, cored, and thinly sliced
2 cups (500 mL) fresh or frozen berries (blueberries, raspberries, blackberries, etc.)
2 Tbsp (30 mL) water
1 Tbsp (15 mL) lemon juice
Preheat oven to 350 F (180 C).
For crumble topping, in large bowl, mix to combine flour, oats, flaxseed, cinnamon, and salt. Stir in oil and honey or syrup, stirring until mixture is fully incorporated and mixture is tacky.
For filling, in large bowl, mix apples or pears, berries, water, and lemon juice until fully combined. Tip fruit into 10 in (25 cm) round or 8 x 8 in (20 x 20 cm) baking dish or cast iron pan, distributing fruit filling evenly.
To assemble, crumble topping over fruit filling, pressing down gently to encase fruit. There may be extra crumble topping, which you can freeze for another crumble or crisp.
Bake for 40 to 50 minutes, until fruit is bubbling and topping is beginning to brown. Serve warm or chilled with yogurt or a splash of milk, if desired. Once cool, cover, and refrigerate—it lasts for about a week. Reheat single servings in low oven if desired or enjoy cold.
Each serving contains: 524 calories; 10 g protein; 25 g total fat (3 g sat. fat, 0 g trans fat); 69 g total carbohydrates (25 g sugars, 12 g fiber); 181 mg sodium
Detox Chickpea Stew
SERVES 4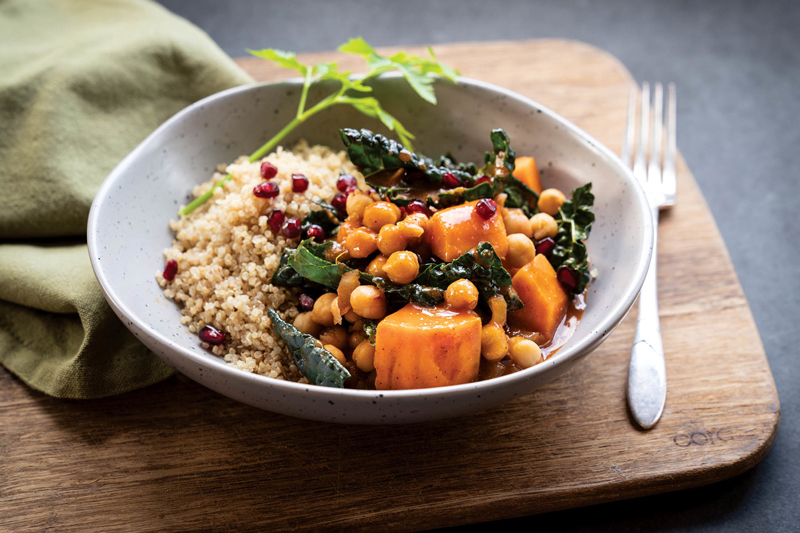 This glow-getting stew makes the ultimate do-ahead lunch. It's loaded with skin-supportive nutrients, such as beta carotene, that are thought to promote a healthy complexion.
2 Tbsp (30 mL) olive oil
2 medium sweet potatoes, peeled and cut into 1 in (2.5 cm) pieces
1 onion, diced
2 garlic cloves, minced
2 tsp (10 mL) ground cumin
1 tsp (5 mL) ground coriander
1/2 tsp (2 mL) ground cinnamon
1/2 tsp (2 mL) salt
2 Tbsp (30 mL) tomato paste
2 cups (500 mL) cooked chickpeas, drained and rinsed if canned
2 1/2 cups (625 mL) low-sodium vegetable stock
1 small bunch kale, de-stemmed and torn
2 Tbsp (30 mL) lemon juice
2 cups (500 mL) cooked quinoa, warm
1/2 cup (125 mL) roughly chopped fresh parsley
1/4 cup (60 mL) pomegranate seeds
In large pot, heat oil over medium. Add sweet potatoes, onion, garlic, cumin, coriander, cinnamon, and salt, and sauté until vegetables begin to soften, about 8 minutes. Stir in tomato paste, followed by chickpeas and stock. Bring mixture to a boil, reduce to a simmer, cover, and cook, stirring a few times, for 20 minutes, until sweet potatoes are tender and stew is thick. Stir in kale and lemon juice, cooking until kale is wilted and tender, about 3 minutes.
To serve, add a bed of warm quinoa to bowls, top with stew, and then garnish with parsley and pomegranate seeds.
Each serving contains: 410 calories; 14 g protein; 11 g total fat (1 g sat. fat, 0 g trans fat); 66 g total carbohydrates (12 g sugars, 13 g fiber); 442 mg sodium
Raw Broccoli, Cauliflower, and Blueberry Caviar
SERVES 4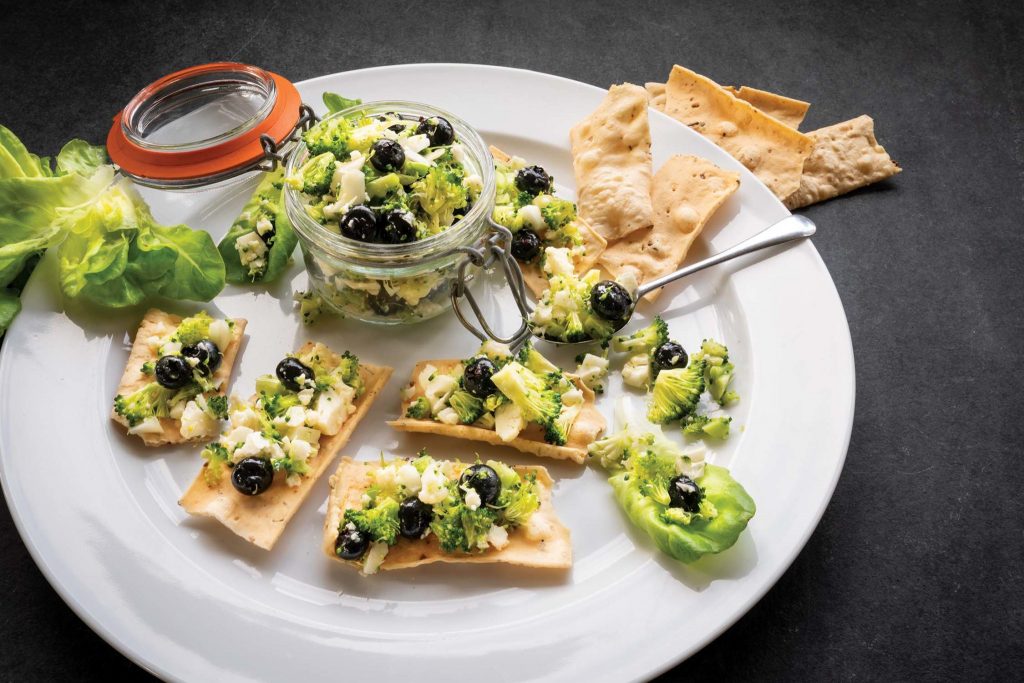 Raw broccoli and cauliflower are detox superstars, containing nutrients that cleanse, restore, and nourish the body—skin included.
1 head broccoli, florets finely minced
1/4 head cauliflower, florets finely minced
1 cup (250 mL) fresh blueberries
1/2 tsp (2 mL) salt
3 Tbsp (45 mL) olive oil
3 Tbsp (45 mL) lemon juice
2 tsp (10 mL) maple syrup
1 tsp (5 mL) Dijon mustard
1/2 garlic clove, grated
Gluten-free crackers or toasted bread or butter lettuce cups, to serve (optional)
In large bowl, toss to combine broccoli, cauliflower, blueberries, and salt. In small glass jar to shake or bowl to whisk, mix oil, lemon juice, maple syrup, mustard, and garlic. Add dressing to broccoli mixture and toss well to combine. Cover and refrigerate to marinate for at least 1 hour, up to 2 days. Serve caviar on top of gluten-free crackers or toasted bread or lettuce cups, if desired.
Each serving contains: 146 calories; 2 g protein; 10 g total fat (1 g sat. fat, 0 g trans fat); 13 g total carbohydrates (8 g sugars, 3 g fiber); 345 mg sodium