Winter grains and greens
Cook up comforting, healthy dinners
Grains and greens are two cozy ingredients that need just a little culinary attention to make them completely satiating. They're the perfect pair. Grains are available all year round, and certain greens are spectacular in winter—vibrant, crisp and colorful.
Roasted Butternut Squash with Barley, Kale and Chickpeas
This simple dinner ticks all the boxes: delicious, wholesome and satisfying. Plus, it's vegetarian. Serve with brown basmati rice on the side, if desired.
1/2 cup (125 mL) hulled, pot or pearl barley, rinsed, or brown rice
1/2 small butternut squash, peeled, seeds removed and diced (about 2 cups or 500 mL)
2 Tbsp (30 mL) olive oil, divided
Salt and freshly ground black pepper, to taste
1 small onion, peeled and diced
1 small bunch kale, stems removed, leaves torn into bite-sized pieces
1 – 19 oz (540 mL) can chickpeas, rinsed and drained
2 Tbsp (30 mL) low-sodium tamari
2 Tbsp (30 ml) orange juice
1 Tbsp (15 ml) lemon juice
Pinch crushed red peppers
1/4 cup (60 mL) toasted pumpkin seeds
In small saucepan, bring barley and 1 1/4 cups (310 mL) water to a boil. Reduce heat to simmer. Cook barley covered, until tender but still chewy and most of the liquid has been absorbed, about 45 minutes. Let rest for 5 minutes and stir with fork to separate kernels. (Barley can be made ahead and refrigerated until ready to use.)
Preheat oven to 375 F (190 C). Place squash in bowl and lightly coat with 1 Tbsp (15 mL) olive oil. Spread on parchment-lined baking sheet in single layer. Lightly sprinkle with salt and pepper. Bake oven for 12 to 15 minutes, or until tender but slightly firm.
Meanwhile, heat remaining oil in large, heavy saucepan. Add onion, and sauté over medium-low heat, stirring often, until softened. Fold in kale, chickpeas and barley, and gently stir-fry over medium heat to wilt kale slightly and warm chickpeas. Fold in squash and heat through. Remove from heat. Combine tamari, juices and crushed peppers. Whisk to combine and drizzle over vegetables. Fold in to coat evenly.
Serve with sprinkling of pumpkin seeds.
Serves 6.
Each serving contains: 284 calories; 12 g protein; 11 g total fat (2 g sat. fat, 0 g trans fat); 39 g total carbohydrates (4 g sugars, 8 g fiber); 368 mg sodium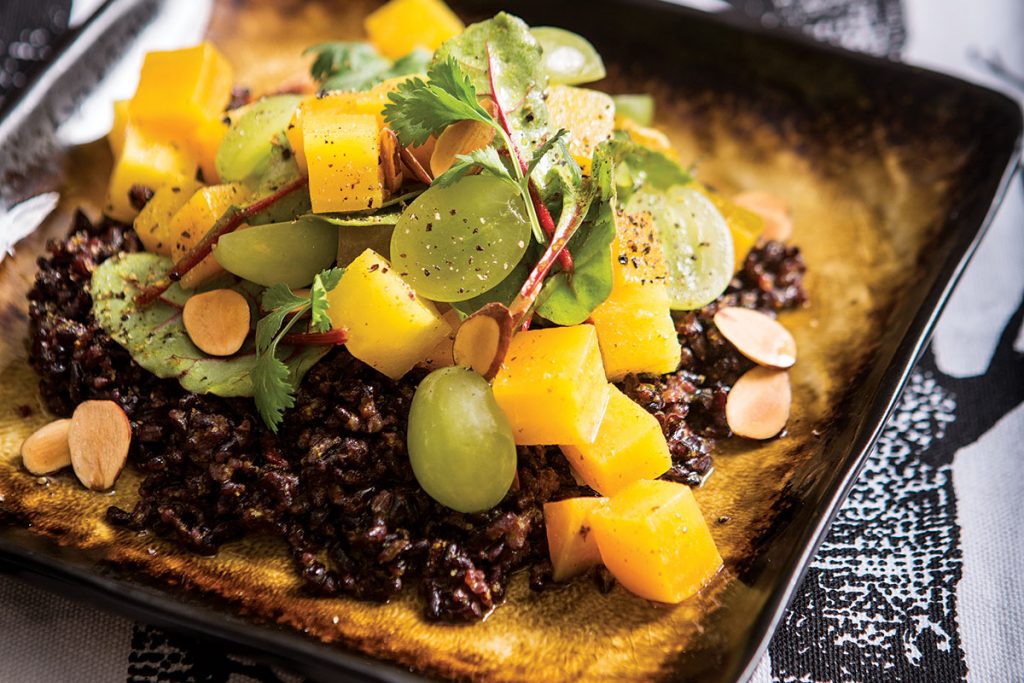 Curried Golden Beets with Black Rice and Baby Chard
The lovely nutty flavor of black rice pairs beautifully with a curried citrus vinaigrette. This dish is also excellent served with chicken.
Salad
2 medium-sized golden beets, trimmed, with root intact
1 cup (250 mL) black rice, rinsed and drained
1/4 tsp (1 mL) salt
2 cups (500 mL) baby Swiss chard, washed
1/4 cup (60 mL) sliced almonds, toasted
1/3 cup (80 mL) seedless green grapes, halved
Cilantro, for garnish
Dressing
1/4 cup (60 mL) olive oil
2 Tbsp (30 mL) lime juice
2 tsp (10 mL) Dijon mustard
2 to 3 tsp (10 to 15 mL) curry powder, to taste
1 tsp (5 mL) liquid honey
1/4 tsp (1 mL) salt
Freshly ground black pepper, to taste
Pinch hot red pepper flakes
Bring beets to a boil. Reduce heat to medium and gently boil until beets are tender but still slightly firm when pierced with skewer. Drain and cool. Peel and dice into 1/2 in (1.25 cm) cubes. Place in bowl. Set aside.
Place rice in medium-sized saucepan along with 3 cups (750 mL) water and salt. Bring to a boil. With lid slightly ajar, cook over medium heat until tender but still has a little bite, about 35 to 40 minutes. When rice is tender, drain well and spread on baking sheet to cool slightly. Transfer to bowl.
Whisk dressing ingredients together in bowl. Drizzle 2 Tbsp (30 mL) dressing over beets and add chard. Gently toss to coat. Drizzle remaining dressing over rice and toss to coat. Arrange rice on serving platter, and spoon beets and chard over top. Sprinkle with almonds and grapes, and garnish with cilantro. Serve at room temperature.
Serves 6.
Each serving contains: 159 calories; 3 g protein; 11 g total fat (2 g sat. fat, 0 g trans fat); 13 g total carbohydrates (5 g sugars, 2 g fiber); 170 mg sodium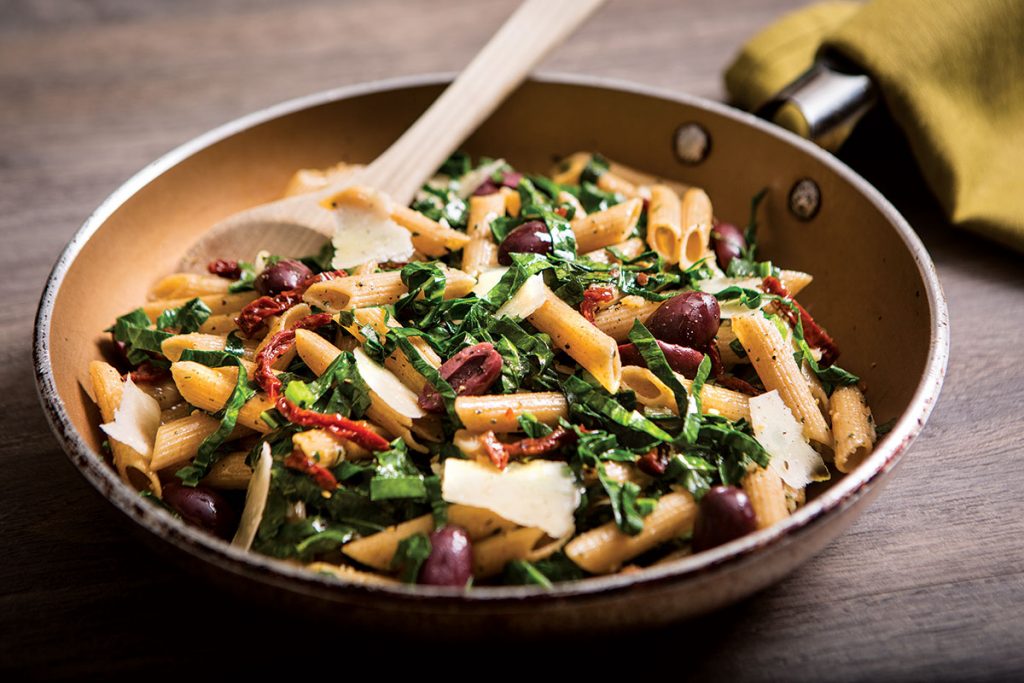 Warm Mediterranean Penne
Collard greens pack a powerhouse of nutrition into a recipe with few calories—cooked collards provides a whopping 308 percent of your daily vitamin A needs!
12 oz (340 g) whole grain penne pasta
1/2 tsp (2 mL) salt
1/4 cup (60 mL) olive oil, plus extra, if desired
2 garlic cloves, smashed and minced
4 collard greens leaves, thinly slivered crosswise
1/4 cup (60 mL) slivered sundried tomatoes
3 Tbsp (45 mL) finely chopped parsley
2 Tbsp (30 mL) finely chopped fresh basil
2 Tbsp (30 mL) red wine vinegar
8 olives, pitted
1/3 cup (80 mL) shaved Parmesan cheese
Freshly ground black pepper
In large pot of boiling water, cook pasta with salt just until al dente, about 10 minutes. Drain.
Meanwhile, heat oil in large saucepan. Add garlic and sauté until soft but not browned. Add collard leaves, tomatoes, parsley and basil. Fold together, remove from heat once collards wilt and set aside.
Add pasta to pan with collards and toss together to blend evenly. Drizzle with vinegar and fold in olives. Serve with Parmesan and pepper to taste. Drizzle a little extra oil on top, if you wish.
Serves 6.
Each serving contains: 195 calories; 6 g protein; 12 g total fat (2 g sat. fat, 0 g trans fat); 19 g total carbohydrates (2 g sugars, 3 g fiber); 186 mg sodium