Happy-hued recipes
It's suggested that eating a rainbow of fruits and vegetables is linked to greater cognitive and mental health. From turmeric-laced barley to yellow beet salsa and grilled pineapple, these delectable golden recipes have one thing in common—they all contain stellar food for thought.
Roasted Yellow Pepper Bisque
This cheerful yellow soup not only has plenty of eye appeal, but it's also delicious served hot or cold.

Bisque

6 large, firm yellow bell peppers
1 Tbsp (15 mL) olive oil, plus extra
1 sweet onion, peeled and diced
1 stalk celery, diced
1 large carrot, peeled and diced
2 large Yukon Gold potatoes, peeled and diced
2 garlic cloves, peeled and minced
1 Tbsp (15 mL) minced fresh thyme
1 bay leaf
4 cups (1 L) low-sodium vegetable or chicken stock
1/2 tsp (2 mL) smoked paprika
2 Tbsp (30 mL) lemon juice (optional)
Cashew Gremolata

1/4 cup (60 mL) raw cashews, toasted and finely chopped
1/4 cup (60 mL) minced fresh parsley
Zest from 1 orange
1 large garlic clove, finely minced
Preheat oven broiler and place rack in highest position. Grease baking sheet with olive oil.

Cut peppers in half and remove stems and seeds. Place cut side down on baking sheet. Lightly brush with olive oil. Broil until skins blacken, about 8 minutes. Transfer to bowl and tightly seal to steam. Set aside until peppers are cool enough to handle.

In large heavy saucepan, heat oil. Add onion, celery and carrot and sauté until onion is clear. Add potato, garlic, thyme and bay leaf and sauté for a minute. Add stock and paprika and bring to a gentle boil. Cover, reduce heat and simmer until potato is fork-tender.

While potato is cooking, peel skin from peppers, chop peppers and place in bowl. Add any juices that may have collected. When potato is tender, remove bay leaf. Add roasted peppers and any juices that may have collected to saucepan with potatoes. Stir together.

Transfer mixture to high-speed blender and purée until smooth and creamy. Alternatively, purée using hand-held stick blender. Return to saucepan and heat through just until piping hot. Add a splash of lemon, if you wish.

In bowl, stir together gremolata ingredients. Serve soup with gremolata scattered overtop.
Serves 6.
Each serving contains: 194 calories; 7 g protein; 6 g total fat (1 g sat. fat, 0 g trans fat); 31 g total carbohydrates (3 g sugars, 4 g fiber); 72 mg sodium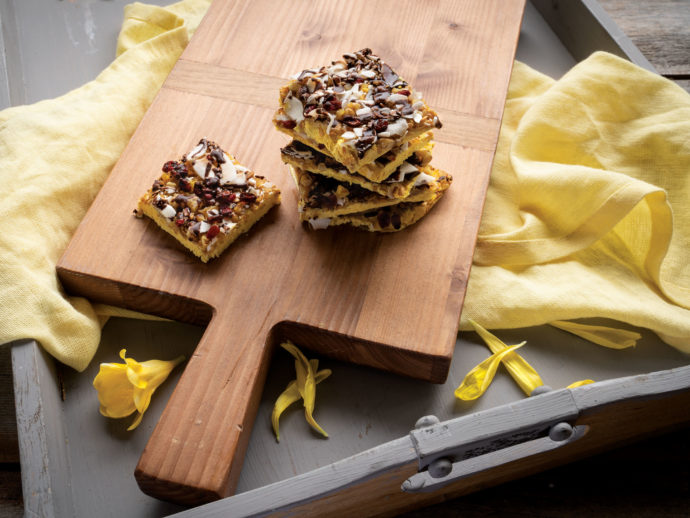 Frozen Smart Bark
This iced bark is studded with a combination of brain-healthy ingredients—golden flaxseed, walnuts and turmeric to name a few.


2 cups (500 mL) plain Greek yogurt
2 Tbsp (30 mL) maple syrup
1 tsp (5 mL) turmeric, plus extra to taste
1/8 tsp (0.5 mL) black pepper
1/2 cup (125 mL) chopped walnuts
1/4 cup (60 mL) golden flaxseeds
1/4 cup (60 mL) ribbon coconut, lightly toasted
2 Tbsp (30 mL) dried barberries or chopped dried cranberries
1 oz (28 g) dark chocolate
1 Tbsp (15 mL) coconut oil
Line 9 x 12 in (23 x 30 cm) shallow-sided baking sheet with parchment paper. A large lasagna pan will also work. Set aside.

In bowl, combine yogurt, maple syrup and turmeric. Whisk together to blend. Pour into lined tray and spread out into an even thickness. Evenly scatter with walnuts, flaxseeds, coconut and dried berries.

In small bowl in microwave or in small saucepan on stovetop, melt chocolate and coconut oil together, stirring until smooth. Drizzle in strands overtop yogurt. Freeze tray until firm, preferably overnight. To serve, break bark into chunks. Return any remaining bark to freezer to prevent melting.
Serves 8 to 10.

Each of 10 servings contains: 145 calories; 5 g protein; 10 g fat (4 g sat. fat; 0 g trans fat); 10 g total carbohydrates (7 g sugar, 3 g fiber); 38 g sodium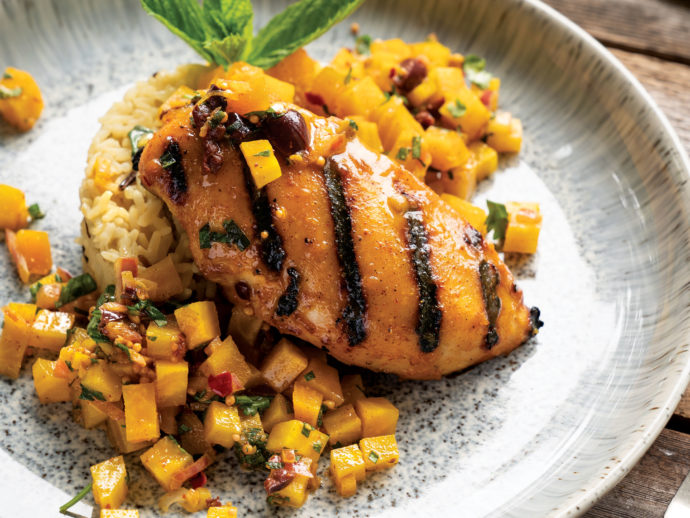 Honey Glazed Chicken with Golden Beet Salsa
Beautiful to look at, but even more delicious to eat!

Honey Glazed Chicken

3 Tbsp (45 mL) Dijon mustard
3 Tbsp (45 mL) honey
1 Tbsp (15 mL) olive oil
1 Tbsp (15 mL) lemon juice
1 tsp (5 mL) hot curry powder
1/2 tsp (2 mL) paprika
4 boneless, skinless chicken breasts
Golden Beet Salsa
3 medium-sized golden beets
1/4 cup (60 mL) minced red onion
2 Tbsp (30 mL) chopped pitted Kalamata olives
2 Tbsp (30 mL) olive oil
1 Tbsp (15 mL) lemon juice, plus extra if needed
1/4 cup (60 mL) chopped fresh cilantro
2 Tbsp (30 mL) chopped fresh mint
2 garlic cloves, finely minced
1 tsp (5 mL) ground cumin
1/2 tsp (2 mL) crushed dried red chilies
1/2 tsp (2 mL) yellow mustard seed
1/4 tsp (1 mL) paprika
1/4 tsp (1 mL) sea salt
In small saucepan, combine Dijon, honey, oil, juice and seasonings. Stir over low heat until blended. Transfer to bowl. Add chicken and roll in sauce to evenly coat. Refrigerate for a couple of hours or overnight.


Grease grill and preheat to 350 F (180 C). Place chicken on preheated grill and barbecue, covered, for 5 or 6 minutes. Gently flip and continue to grill, covered, for 5 more minutes or until chicken registers 165 F (75 C) when tested with a meat thermometer inserted into thickest portion of the breast.
To make salsa, preheat oven to 375 F (190 C). Place beets in small, oven-safe saucepan with 1/4 cup (60 mL) water. Cover tightly and place in preheated oven. Bake for 40 to 50 minutes or until beets are tender when pierced. Remove and set aside.

When cool enough to handle, peel beets and cut into small dice. Place in bowl along with remaining salsa ingredients. Gently toss together. Cover and set aside. Salsa can be refrigerated for up to 2 days.

Serve each chicken breast with a spoonful of salsa scattered overtop. Drizzle with a little extra lemon juice, if you wish. Delicious served with grilled summer zucchini and rice.
Serves 4.
Each serving contains: 333 calories; 30 g protein; 14 g total fat (2 g sat. fat, 0 g trans fat); 23 g total carbohydrates (18 g sugars, 3 g fiber); 484 mg sodium